You can prevent abuse of prescription medication by cleaning your cabinet of expired, unused and unwanted prescription medications. Anyone in your family or even a visitor to your home could access these medications and misuse them.  Be a Hero and Get to Zero unused medications in your home!
Why?
54% of people who misuse prescription opioids obtain them from family and friends
Nearly 10% of people 12 years & older use illegal drugs or abuse prescription drugs
25% of people who misused prescription drugs by age 13 end up with an addiction at some point in their life
More teens have died from prescription drug abuse than from heroin/cocaine addiction
How?
It is important to keep track of your medications and to store them in a safe and secure cabinet where they cannot be accessed by others. Safely remove all expired, unused and unwanted medications from your home to protect your family or individuals who might visit.
Gather your unwanted prescription medications and protect your family or individuals who might visit your home.
Drop off these prescription medications at designated secure locations that have prescription drug drop boxes. You should also safely dispose of unwanted over-the-counter medications. Convenient secure locations in the Capital Region are listed below:
Where?
Here are some of the secure prescription drug drop box locations in the Capital Region where you can safely, conveniently and responsibly dispose of medications. The drop off services are free and no questions are asked.  Please note that these locations cannot accept liquids or needles or sharps, only pills or patches.
`
Collection Sites for Free Drop Off of Medications
24/7 Locations in the Baton Rouge Area
–

24 Hour Locations Only
Walgreens Pharmacy
3550 Government
Baton Rouge, LA 70806
(225) 343-8878
Walgreens Pharmacy
5298 Highland Road (near Lee Drive)
Baton Rouge, LA 70808
(225) 767-7003
Walgreens Pharmacy
5112 Essen Lane
Baton Rouge, LA 70809
(225) 769-7224
Walgreens Pharmacy
4747 South Sherwood
Baton Rouge, LA 70816
(225) 272-9769
Law Enforcement Locations in the Capital Area Region
East Baton Rouge Parish
EBR Police Department and
EBR Sheriff's Office
9000 Airline Highway
Baton Rouge, LA 70815
West  Parish Rouge Parish
WBR Sheriff's Office
850 8th Street
Port Allen, LA 70767
East Baton Rouge Parish
Southern University
801 Harding Blvd. William Pass Station
Baton Rouge, LA 70813
Pointe Coupee Parish
New Roads Police Dept.
101 6th Street
New Roads, LA 70760
Blue Cross and Blue Shield of Louisiana also has provided secure drop boxes at some of the police and sheriff departments in numerous parishes across the state. These are open 24 hours/7days a week. Check www.bcbsla.com/safedrugdrop for a locator map for sponsored law enforcement prescription drug drop box locations.
Other Drop Box Locations in the Capital Area Region
 –

Limited Hours
St. Vincent de Paul
Community Pharmacy
1647 Convention St.
Baton Rouge, LA 70802
(225) 383-7450
Open 8am-4:30pm weekdays
Parker Pharmacy
9600 Florida Blvd. Suite 5
Baton Rouge, LA 70815
225-960-2444
Open 8am-6pm daily
www.parkersrx.com
Louisiana CVS Pharmacy
1624 N. Burnside Dr.
Gonzales, LA 70737
(225) 644-7525
Open 8am-9pm M-F
8am-6pm Sat-Sun
Pointe Coupee General Hospital
2202 False River Road
New Roads, LA 70760
(225) 638-6331
Open 8am-4pm weekdays
Other Resources
Get more information on drug counseling services and how to prevent abuse of medications from the following: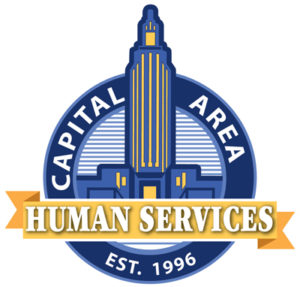 Capital Area Human Services
Get informational materials to print for your school, club or organization from the realhelpbr.com website or contact the CAHS Prevention Division at (225) 922-2700.
U.S. Drug Enforcement Administration

The United State Department of Justice's Drug Enforcement Administration at dea.gov/takeback for permanent locations for safe disposal of medications. Call (800) 882-9539 to verify locations.
Proper disposal of unused drugs saves lives and protects the environment.
This information is provided as a public service of the
Capital Area Human Services, Prevention Division
4615 Government Street, Baton Rouge, LA 70806
225-922-2700 or go to realhelpbr.com